TRAINOR Center founder, Dr. Kathleen Trainor, is excited to announce her book, Calming Your Anxious Child: Words to Say and Things to Do , is published by Johns Hopkins University Press and is available now. What makes this book so long-awaited by parents and practitioners is the introduction of Dr. Trainor's 7-Step TRAINOR Method.
Order your copy of Calming You Anxious Child on Amazon today! Also available at Barnes and Nobel and other bookstores.
This is the first clear, user-friendly approach that establishes a framework that guides parents and their anxious youngsters in a systematic manner.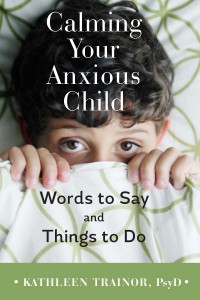 Calming Your Anxious Child: Words to Say and Things to Do presents strategies that are practical, supportive, and beneficial in helping children overcome fears. While other books offer general tips, the few that offer specific tools require onerous worksheets that often overwhelm the parents and children who try them. Calming Your Anxious Child  provides a much easier—and more effective—system to treat anxiety, as reported by parents who have tried other approaches.
Dr. Trainor's book is presented in an easy-to-read format that shares the stories of parents and anxious children who have suffered from a variety of anxiety disorders. The parents' and children's voices help readers identify, realizing the unique nature of each case but seeing that they're not alone.
Calming Your Anxious Child offers specific chapters for separation anxiety, selective mutism, social anxiety, hair pulling, OCD, and other common types of anxiety that have their own challenges. The book also includes the latest information on brain research, explained in lay terms by Dr. Trainor, a medical professional who has helped thousands of patients and professionals.